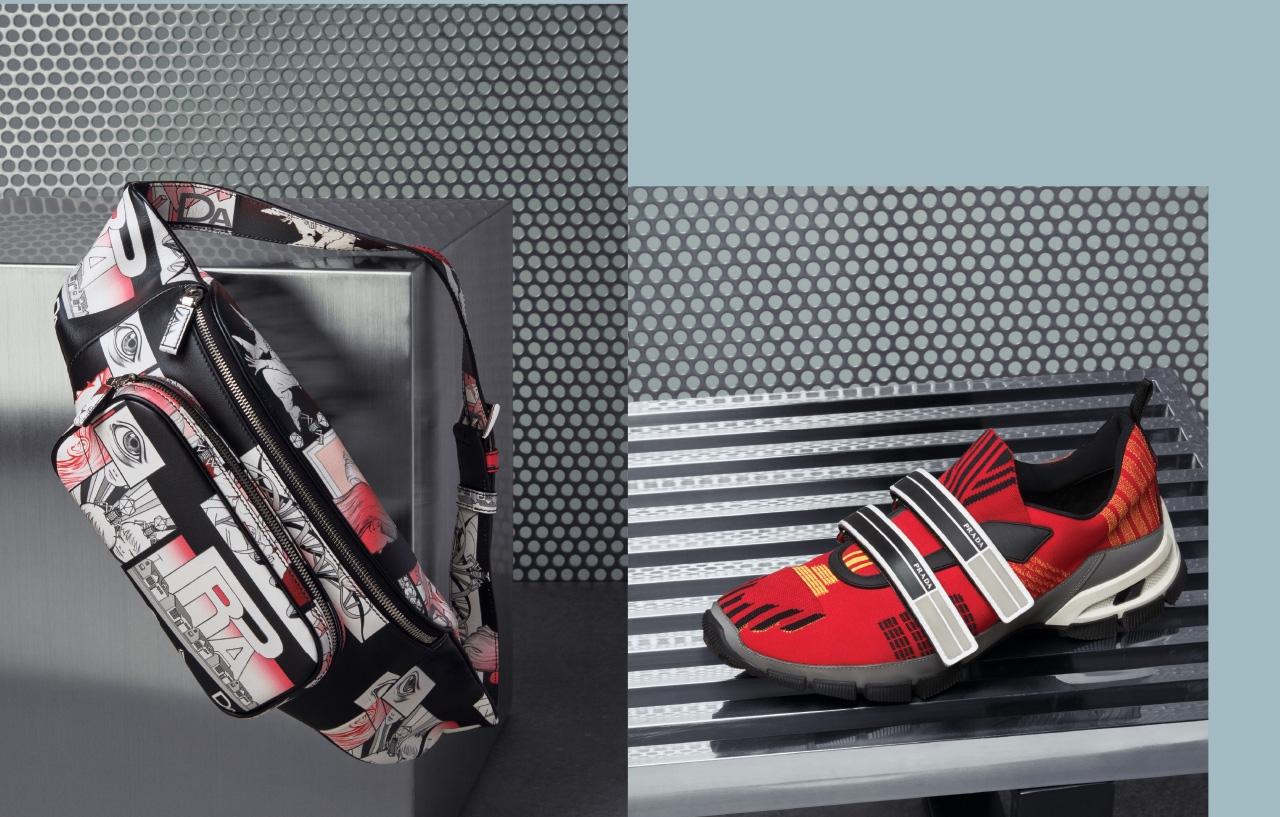 On The Slide
Heat up for the season
with an athleisure look to rule
On The Slide
Heat up for the season
with an athleisure look to rule

PRADA Leather belt bag in black and comic book print. $2070. Textile Crossection sneaker with Velcro closures in red. $845.
BALENCIAGA Polyester Ripstop double hem windbreaker in turquoise. $2415. Double belt pant in grey. $1040. BUSCEMI Textile Run 1 sneaker in white and navy. $1035.
GIVENCHY Bomber jacket with leather shoulders and front pockets in black. $4670. Denim pant in black. $1085. GB3 Chelsea ankle boot in cognac. $1340. VERSACE Bomber jacket with lace-up sleeves. $2650. Cargo pant with lace-up sides. $1725. Both in blue nylon. Cropped sweatshirt in light blue. $775.
BOSS Rambi hooded coat in slate grey. $1695. Newquay long sleeve striped crewneck in navy and white. $250. Both in cotton. Anker short in navy. $325. Short also available in cotton.
FENDI Canvas duffle bag with FF logo strap in black. $2370. Suede Forever Fendi espadrille in brown. $640.
MARNI Nylon striped jacked with hood in multi. $1520. Denim wide leg pant in lilac. $750. VERSACE Sandal. $525. Nylon backpack. $2125. Both in black and white Optical print.
VALENTINO Tech parka with pockets in stone. $3540. Cross collar shirt with logo in white. $930. Chino with VLTN on back in khaki. $820. Nylon crossbody bag in blue. $1100. Nappa Coach jacket in ivory, navy, and emerald. $3880. Cross collar shirt in celeste. $760. Chino with VLTN on back in olive. $820. Hero sock runner in olive and lipstick. $1180.
BALENCIAGA Nylon Explorer backpack with P.E.18 logo in Vert Khaki. $1240. Black Speed sneaker with Balenciaga AOP. $980. ACNE STUDIOS Shirt in rust orange check. $560. Cotton sweater with top stitch detail in Petrol. $630. Wool trouser with elastic waistband in charcoal. $450.
VALENTINO Fabric sneakers with mirror leather details, raffia stitching, and trekking inspired laces in multi. $1180. KENZO Colour block summer parka in blue and green. $985.
BERLUTI Mackintosh coat with lizard pocket. $4000. Work blouson with leather detail. $3700. Both in Laurel. Wool and mohair jogger pant with side band in Cloud Grey. $1585. Venezia leather Silhouette Essence tote in Nero. $4200. BOTTEGA VENETA Leather duffle bag with check strap in grey. $4790.
SAINT LAURENT Canvas duffle bag in green. $2100. Suede Matt tall boot in tan. $1580.