Maximalism is the message for accessories this Fall
Prada Patent leather Flame wedge sandal in black, orange, and white. $1340. SHOP NOW
Shopper in fluorescent pink or orange. $1620 each. Pochette in fluorescent green. $1070. All in nylon.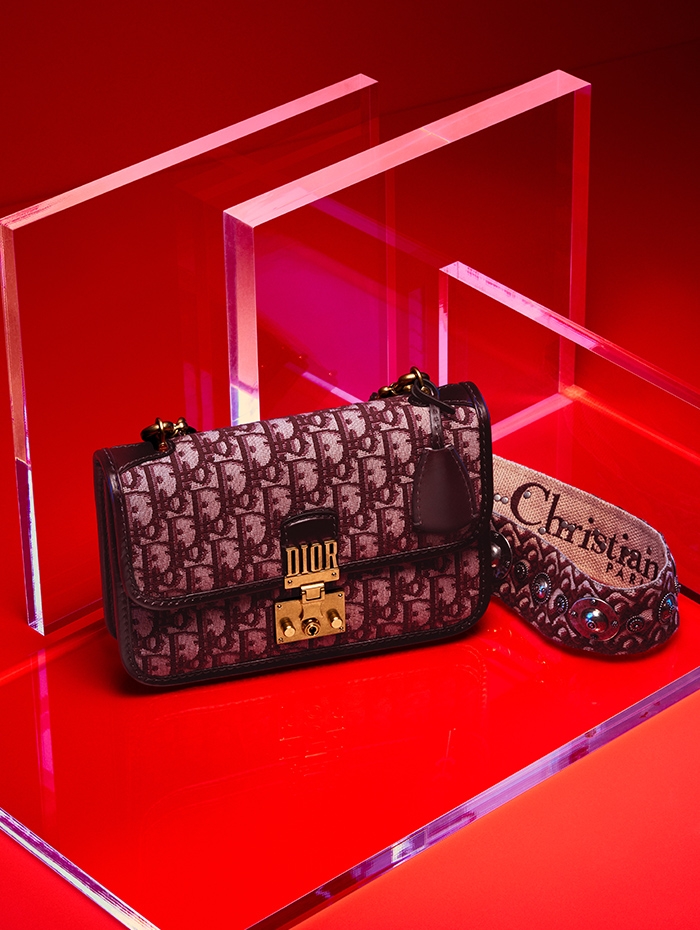 dior
dior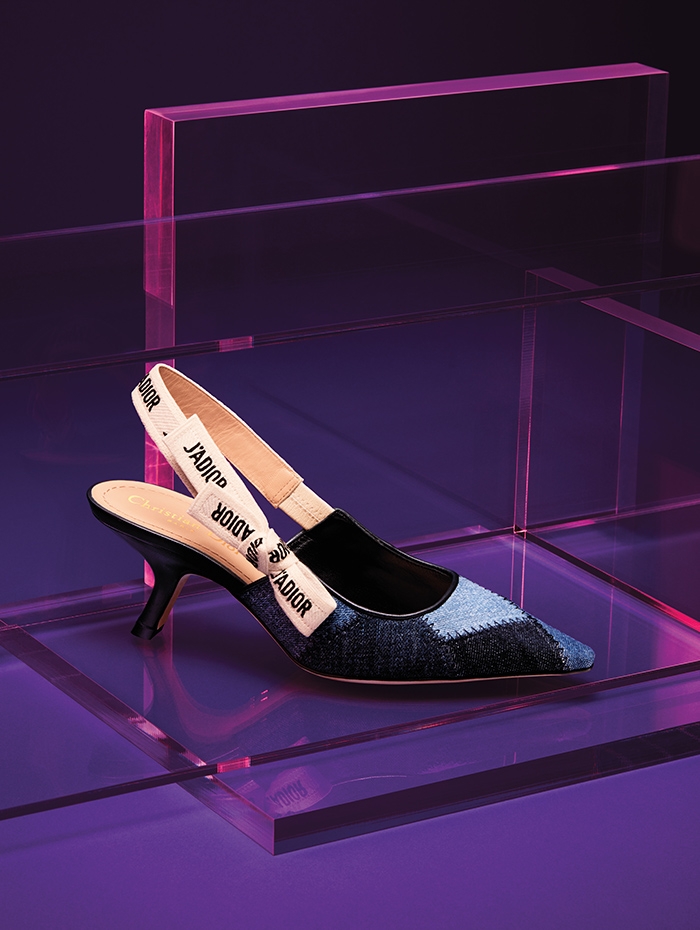 Christian Dior Embroidered small flap bag in burgundy oblique print. $3800.
Dior Denim Patchwork J'Adior slingback in blue. $1290.
Miu Miu Narrow cat eye sunglasses with crystal embellishment in white and black. $480. FIND IN STORE
Gucci G-Frame watch with steel case, mother of pearl dial and ayers strap. $1655. FIND IN STORE
GG Running necklace with diamonds in 18K white gold. $12,130. SHOP NOW
GG Running ring with diamonds in 18K white gold. $7070.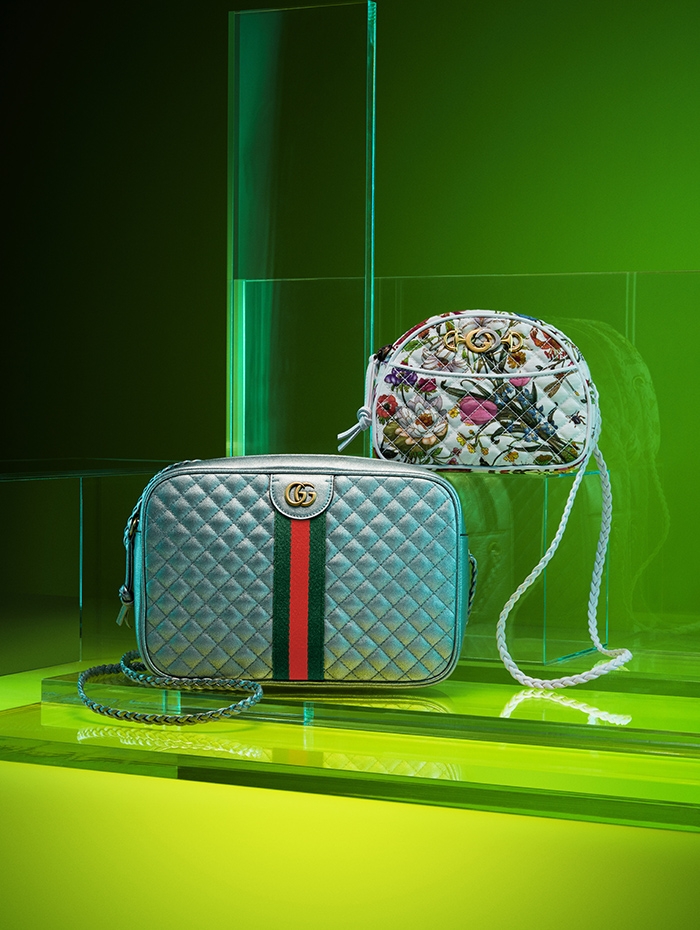 Gucci
Gucci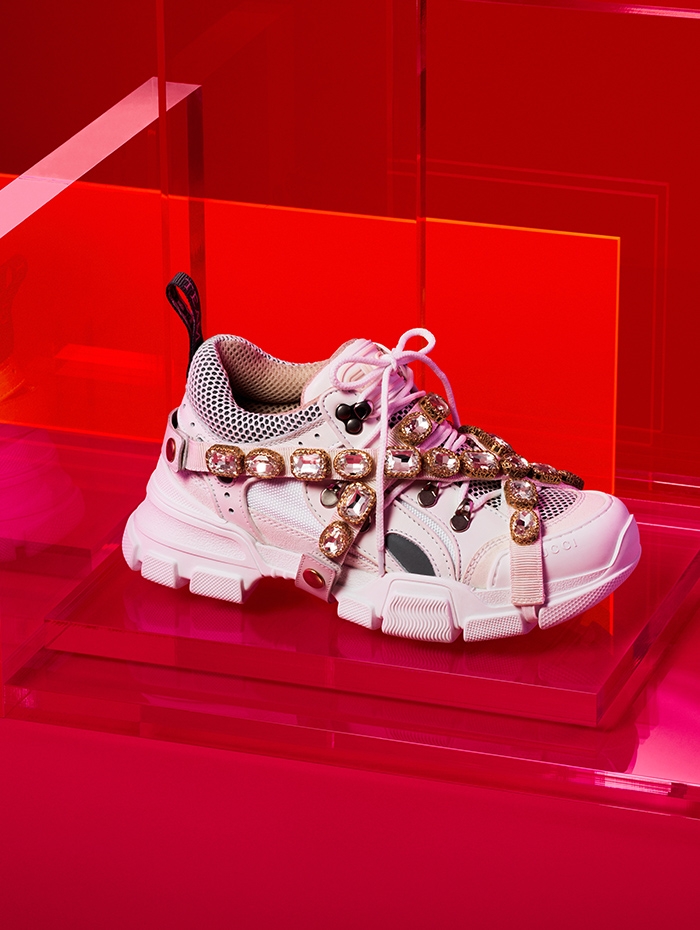 Gucci Matelassé leather small shoulder bag in silver with metal Double G, web detailing, and braided shoulder strap. $2080.
Canvas mini shoulder bag in Flora print with interlocking G, horsebit detailing, and braided leather strap. $1100.
Gucci Leather and suede Flashtrek sneaker with mesh, stones, and Gucci Sega® embellishments. $1890.
Balenciaga Fabric Speed sneaker with logo. $1065 each.
Ville pouch in noir and rose. $1035. FIND IN STORE
Ville messenger bag with flap in bleu tempette and jaune. $2065.
Both in leather with logo.
Christian Louboutin Calf leather 100 mm Boot In Love ankle boot in white. $1745.
Versace Leather Chain Reaction sneaker. $1225. Leather Icon mini shoulder bag in Clash print. $2700. FIND IN STORE
Fendi Calfskin Peekaboo X-Lite handbag in ebony with shearling macro FF 1974 print interior. $6900.
Shearling and nappa leather Peekaboo Mini handbag in light rose macro FF 1974 print. $4900.
Liberty calfskin Mon Tresor bag with FF stamp in plaster. $1590.
Leather Cut-Walk knee-high boot with embossed crocodile detail in black. $1790.
Qeelin Exclusively at Holt Renfrew From the Wulu Collection Large pendant. $16,400. Medium pendant with onyx. $11,200.
Petite ring with onyx. $1700. Medium ring. $7700. All in 18K white gold with diamonds.
Gucci Oversized sunglasses with Web tones on front and Sylvie tones on temples. $525. FIND IN STORE